Common Optometrist Services: Eye Exams and Prescriptions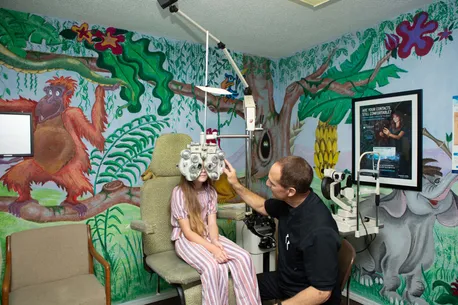 If you require optometrist services, you're not alone. Millions of people rely on optometrists for various services, including eye exams, prescriptions, etc. Dr. Jay Rigney is an experienced optometrist who provides quality services to patients in the area.
If you're looking for an optometrist who can provide the care you need, Dr. Rigney Vision is an excellent place with an in-house lab and all the necessary tech. Here are various services designed to meet your needs.
Prescription Glasses and Contact Lenses
The most common optometry service is prescribing glasses or contacts. If you have an eye exam and the doctor finds you need a corrective lens, they will write you a prescription.
There are two types of prescriptions:
Spectacle lenses
Contact lenses
A spectacle lens prescription is for glasses, and a contact lens prescription is for contacts! If you need both, no worries - your optometrist can do that too.
Eye Disease Detection and Treatment
The second standard optometry service is detecting and treating eye disease. Your optometrist can detect signs of multiple conditions during a comprehensive eye exam, some of which include:
Glaucoma
Cataracts
Macular degeneration
If your optometrist detects a problem, they will work with you to create a treatment plan. This plan may include prescribing medication, recommending surgery, or referring you to another specialist.
Comprehensive Eye Exams
One of the most common optical services is comprehensive eye exams. These are important for people of all ages, especially children and seniors.
During a comprehensive eye exam, your optometrist will:
Test your vision
Check the health of your eyes
Evaluate your risk for eye disease
Comprehensive eye exams can help catch problems early, so schedule one with your optometrist every year.
1 Hour Glasses
If you need 1-hour glasses, your optometrist can help. This service is becoming increasingly common as people's lives get busier and they don't have time to wait for their drinks.
With this service, your optometrist will take all the measurements they need to make your glasses and then send them off to be made. You'll have your new glasses in about an hour, and you can be on your way. We provide an excellent service for people who need their glasses fast and don't have time to wait.
Pick Up Other Health Disorders
The sixth and final standard optometrist service is picking up other health disorders. This service may seem odd for an optometrist, but it's pretty standard.
Your eyes are connected to the rest of your body so that they can be a good indicator of other problems. For example, your optometrist may identify signs of diabetes or high blood pressure during an eye exam.
Visit Our Offices for Comprehensive Optical Services
These are just a few of the most common optometrist services. Schedule an appointment with us at Dr. Rigney Vision for comprehensive optical services if you need an eye exam, prescription glasses, or other optometric services. We have an in-house lab and will help diagnose and treat any eye conditions you may have. Contact us today by calling (918) 272-3937, and get in touch with one of our professionals.